[journey : gathering : BalikinEgg] (Balikin Egg Prompt 2) Quiet Place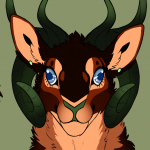 [journey : gathering : BalikinEgg] (Balikin Egg Prompt 2) Quiet Place
0 ・ 0
In
Event Art
・ By
Zincwolf
Benni and Asha take the egg to a quiet spot inside the larger females inn for the night. while Mamba and Flame go out to try and find some food for everybody. Luckily for them, theres nobody around this time in the season, so they have the whole place to themselves. Asha is just glad it got there in one piece, the egg still moving around every now and again, proving it was still alive after the tricky journey. She didn't know a lot about eggs, but, she thought they had to be incubated at least. The fact this one didn't seem to need to be was... odd.

Marvie was feeling a little guilty about the whole ordeal, having had time to take in what Mamba had rightfully drilled into his skull about being a 'good kirin'.  He wanted to change his behaviour from then on, but... did the telling off from the armoured lady come in time...? He hoped so...

Benni can't help but feel a kinship with the little orphan. Maybe they could be friends when it hatches...
Character Journey:
Kirun - Marvie and Benni
Memories: Hurt (Marvie, finally taking in the danger he could've put the egg in) and True Bonds (Benni, for feeling a closeness to the egg he's helping to care for. They'll be close when it hatches)
Balikin prompt 2 Local sounds:
Kirin - Asha. 
Location - Mountains.
Local sounds - gentle rattle of the signpost in the wind, crickets, soft hoot of an owl in the thick pine trees outside. Quiet whispers exhanged between the three guarding it, their voices softly echoing off of mossy rock
---
Submitted By Zincwolf
Submitted: 1 month ago ・ Last Updated: 1 month ago
Mention This
In the rich text editor:
[thumb=36]
In a comment:
[![Image](https://www.arcanezoo.com/images/gallery/0/36_dWVwKfvsBN_th.png)](https://www.arcanezoo.com/gallery/view/36)
There are no comments yet.
Comments
Authentication required
You must log in to post a comment.
Log in